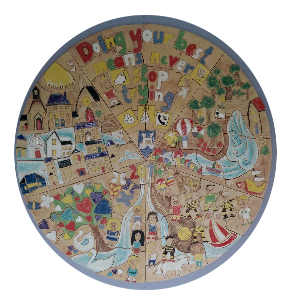 Huge thanks to Mrs. Hearne who organised a great Active Week recently in our school! Check out the photos below!
Congratulations to past puil Paige Gainfort who captained her Wexford Gaynor Cup team to success at this years competition when winning the shield. We are very proud of all your achievements.
Congrats to Lille, School Futsal Champs!!
Congratulations to our U12 League Winners
Congratulations to Molly (1st) and Corey (6th) who won Gold and Silver in Bree.
Congratulations to our Girls Mini 7s team who qualified for the next round with some great performances! Well done girls!
On March 23
rd
we held our school STEM showcase. Each class had a table where they showed their STEM creations/experiments/
discoveries to all the other classes in the school. The speakers were rotated by the teachers so everyone had a go to present if they wished. A very enjoyable day was had by both pupils and staff.
Wexford Credit Union
u13 + u11
WINNERS!!
Talbot Artist Competition Winners!!
Huge congratulations to Louie (2nd class) Eva and Veronica (5th class) who were amongst the top 10 in their categories in Wexfords Artist Competition.